The sound of a loud toilet can be quite irritating, especially when it is not in use. Unless you have been living in the wilderness for some time now, the chances are that you may have heard about this issue. But what´s the reason, why toilet makes noise when not in use.
Finding what is wrong with your toilet can be challenging, so were are here to offer help.
Below are the three common reasons behind a toiled either gurgling or making loud noises
You need to open up your toilet tank and ensure no debris obstructs the flow of water into or out of the system.
Check whether your fill valve needs fixing as when valves start to leak from corrosion, they make noise while filling (you might want to replace them ASAP).
Finally, take a closer look at any pipes inside or outside where calcium deposits accumulate on the inner parts, which cause bubbles and noises.
How to Fix A Toilet Making Noise When Not in Use?
It's annoying when your toilet makes noise when not in use. Below are some simple ways to fix a toilet. These hacks are inexpensive, and you don't necessarily need a plumber to apply them.
Leaky Toilet Valve: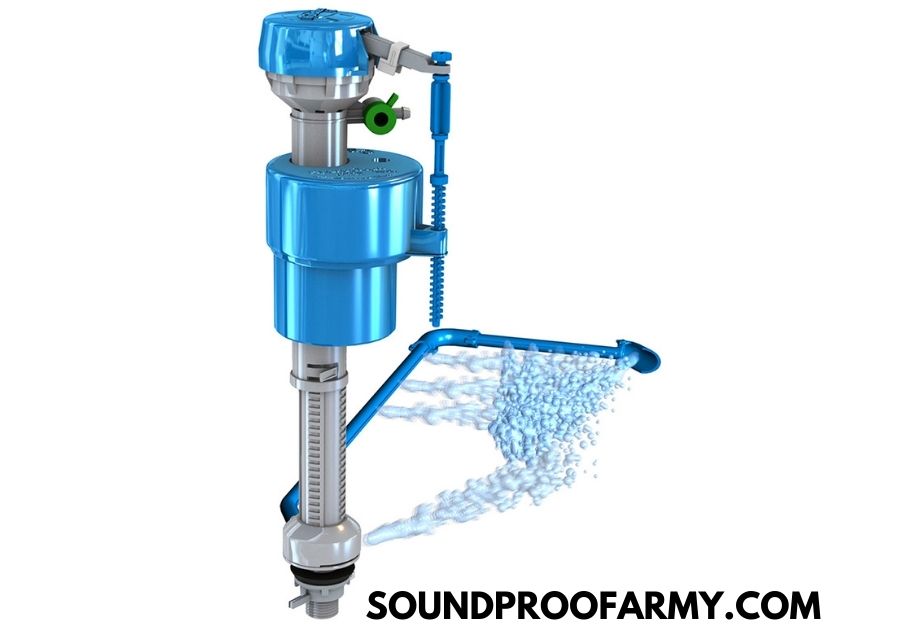 Leaky toilet valves are one of the leading causes of your toilet making noises when not in use.
One way to check for leaky toilet valves is by lifting on the handle when there is no water in the tank and see if you hear any sounds coming out.
Also, when the toilet valve is leaked, you will notice water continues to pour into the tank without filling up.
The problem can be confirmed by checking for leaks on the shutoff valve connected to the wall below the toilet. If you see water leaking, then you know that it is damaged.
Even if there are calcium deposits or corrosion on the shutoff valve, there can be considerable noise from it.
To solve this, you will need to tighten the bolts that connect your toilet fill valve, as sometimes the culprit behind the noise is a loosely held nut.
Or you can replace it.
It is an easy fix, and most people can do it without any professional assistance or knowledge of plumbing.
However, some may find that tightening these bolts does not stop the noise from occurring, so further diagnosis would be necessary.
Calcium Deposits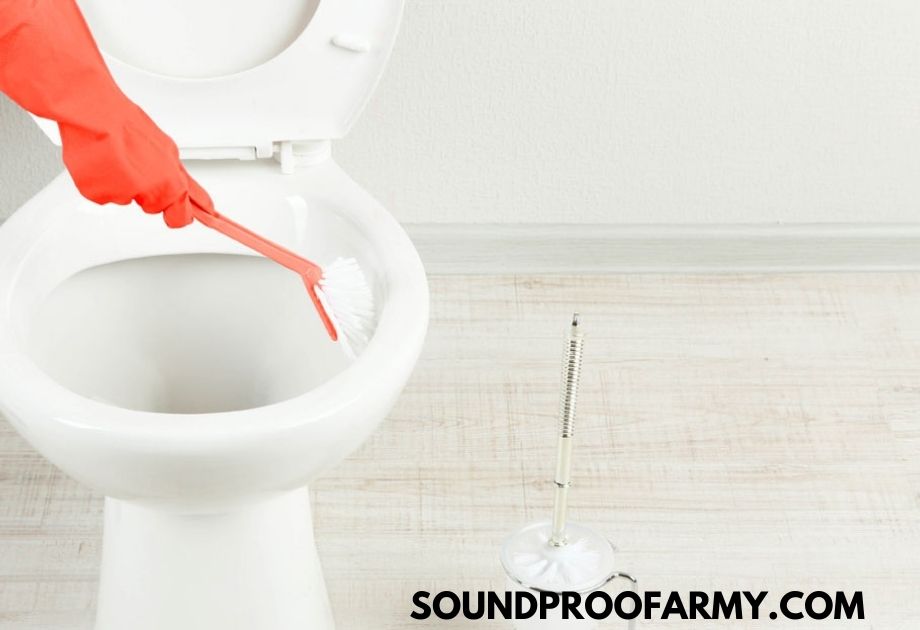 If you hear a noise when your toilet is not being used, it might be because of calcium deposits. It can happen in pipes or fittings inside the toilet. These deposits often form when you use hard water, which has a large quantity of calcium and magnesium if you don't know.
Calcium deposits are commonly found on pipes, the rim of the toilet, and sinks, but they can also be on faucets. It would be best if you inspected these areas in your toilet for possible signs of calcium deposits.
If there are no deposits outside, there is no guarantee that you won't have them inside. To confirm that it is the case, turn off the water and unscrew a pipe connected to your toilet.
Another way to cross-check is to observe whether taking too long to flush or not.
To remove these calcium deposits:
– Flush your tank with plenty of water until it runs clear. It will flush out any residual buildup in the pipes or fittings at the bottom of your toilet.
– If hard water is all you can use, you should try dissolving the calcium deposits.
A good solution is either Lime Away or White Vinegar. Remember always to use protective gloves when handling harsh chemicals.
Put some vinegar down into the drain once you've flushed everything down. Pour about ¼ cup on top inside one foot from where it enters into the pipes below (this eliminates odors).
Let this sit for 24 hours before pouring boiling water after the next day to clean off all residue. After doing so, run fresh cold water through your system again, then flush as usual/
-The best thing to do is to clean the toilet pipes. You can do that by scrubbing them regularly.
A Faulty Fill Valve
If you hear a hissing sound coming from the tank, it might be because of the faulty fill valve in your toilet.
If the water continues to pour in and the tank doesn't fill up, that could be the problem. A fill valve prevents water from filling too high.
One way to stop the hissing is to adjust the fill valve.
You would have to twist the valve. Lift the lid, then reach for the float arm and hold it up. If it does not stop, turn around until you find a way to fix it.
If twisting the valve doesn't work, then then the only solution is to replace the fill valve.
It is typically an easy fix and can be done with relative ease by following these steps:
– Turn off the water supply to the toilet
– Flush tank/remove any remaining water in a bowl (optional)
– Remove top fixing nut or bolt holding down flush handle
– Remove old fill valve from the pipe, being careful not to damage the washer seal on it
– Insert a new fill valve into the pipe, being sure that you install it properly so as not to over-tighten when attaching nuts back onto bolts at each end of unit
– Screw retaining screws securely back on while ensuring they are level before turning the water supply back on.
Blocked Sewer Drain
If you hear a noise that sounds like bubbles, then you should check the toilet or other places for something blocking it.
If you have a blocked drain, then it may be likely that the blockage is in or near the toilet.
When finding something blocking your pipes, the first thing to do is to call for help from professional plumbers and not try to unblock them yourself.
But if you feel like you can do it yourself, here are a few steps to do it properly:
– First of all, you have to put on rubber gloves and go down to the drain.
-Finding the source is important. If you know what is blocking the pipe, then you can easily reach in and remove it.
– Once that is done, try using different things like a plunger with flanges to unclog the toilet
-Plunge the toilet with the rubber flange pulled out to get a better seal. Push in and out vigorously, keeping enough water in the bowl to cover the plunger. Hopefully, it will fix the problem.
Alternatively, you can use a coat hanger to remove the object clogging the toilet. Straighten the coathanger, then shove it into the toilet pipe to try to get the blockage out.
However, this will only work if the object is near.
If the object is further, try reaching in using a plunging snake or an auger. These are simple wires that can reach deep into the pipes while coiling like a snake.
Or you can use chemicals to destroy the blockage. Mix vinegar, water, and baking soda in a bucket, then pour it into the toilet.
Water Hammer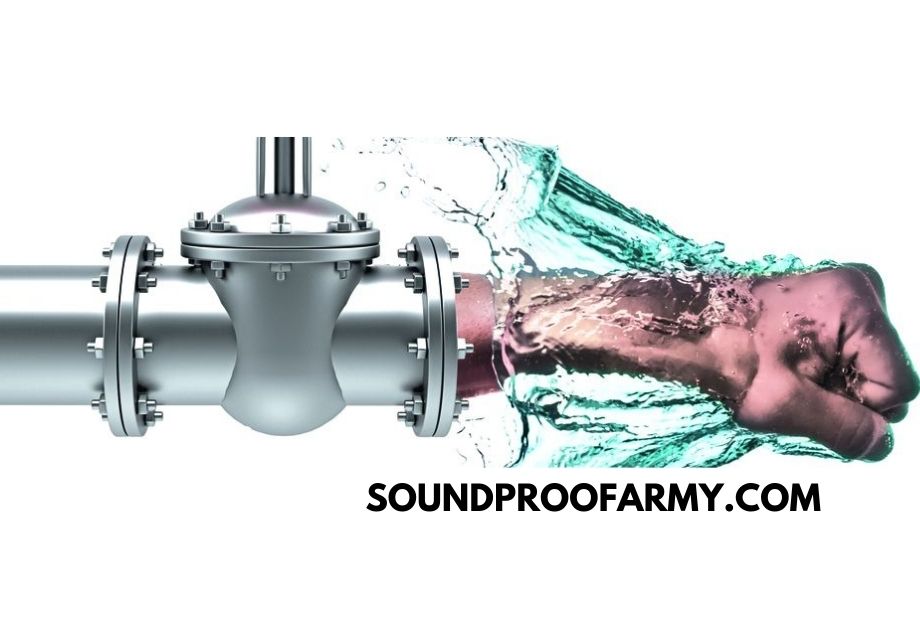 Water hammering could also cause the noise you keep hearing when the toilet is not in use. This noise is usually very loud and annoying.
A water hammer happens due to a pressure surge or high-pressure shockwave propagating through a piping system when a fluid in motion is forced to change direction or stop abruptly.
It usually happens after you flush the toilet.
It can be fixed if you adjust the shutoff valve to regulate the water flowing into the toilet.
Or you can replace it with a regulated fill valve. It doesn't require manual regulation of water entering the toilet tank.
Before installing the new regulated valve, you need to turn off the water from the main supply.
Why does my toilet keep making noise every few minutes?
There can be several reasons behind a toilet making noise that including:
Ghost flushing
Faulty Shut off valve
Faulty fill valves could be the reason why your toilet is making noise
Toilet tank lid
Leaking toilet
Diaphragm gasket wear down
A worn-out or faulty Flapper is probably the reason why the toilet is making noise
Water Resonance
Pro Tip: To fix ghost flushing, you may have to replace the flapper, adjust the chain, reposition the refill tube, or replace the flush valve drain.
How do I get my toilet to stop hissing?
To prevent a toilet from making a hissing noise, you will have to find the root cause of the problem and fix it. We have already discussed with you different methods to troubleshoot a toilet making noise to an unbearable level.
Final Thoughts on Toilet Making Noise When Not in Use
The above hacks should help you fix your toilet making loud noise even when not in use.
However, if you have tried all the above-mentioned methods and still hear the noise, you will have to hire a plumber to fix it for you. A trained professional is best suited to do the job.