In this post, I'm going to show you how to make a motorcycle helmet quieter in simple steps.
If you don't know, one of the significant causes of hearing loss is noise as cited by The Centers for Disease Control and Prevention.
Also, the World Health Organization (WHO) and the U.S. Environmental Protection Agency (EPA) advocate maintaining environmental noise levels below 70 dBA for exposures lasting 24 hours and below 75dBA.
Long exposure to the noise of heavy traffic is a serious health concern and should be dealt with as so.
Well, we can do very little to reduce noisy traffic on the road, we can soundproof our helmets to protect our ears.
In this blog post, we'll explore seven easy hacks to help keep your ears safe from harmful noise levels when riding on the road.
7 Tips on How to Make A Motorcycle Helmet Quieter
Below are some of the tricks that I tried and they gave me peace and quiet on the road.
The loudness of the motorcycle and the nearby traffic are what some are kept in mind while trying these hacks. Also, I have specifically covered those hacks that don't break the bank.
Some of them are more effective than others. I will leave it to you.
Get a fitting helmet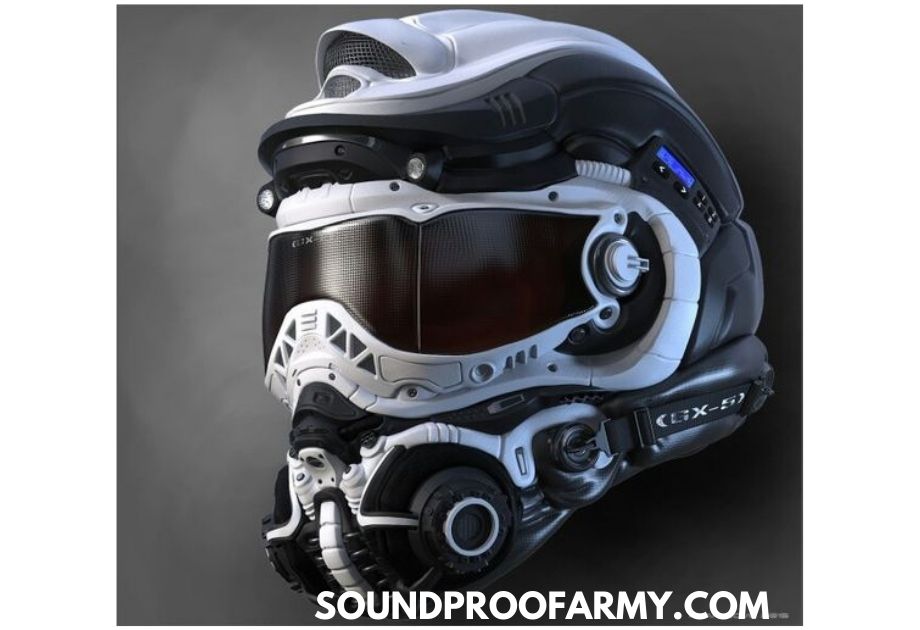 One thing you should do is make sure your helmet fits. Most of the noises you experience riding a motorcycle come from the wind striking your ears as you ride along. Your helmet is the best protection against it.
The shape and fit of the helmet should be a perfect, snug fit around your neck.
What size helmet should you wear?
This depends on your head measurement and head shape. If you have a long oval or intermediate oval head, you will need to find helmets of size 7-7 1/4. If you are round, then the helmet should be 7 1/8-7 3/8.
Wearing a fitting helmet is important as the correct sized helmet not only keeps you safe during a crash but also helps to protect you from wind noise. This alone can reduce the amount of wind noise resonating through the helmet.
Therefore, If your helmet doesn't fit you correctly, it might not protect you. It will have gaps in the neck area and noises will come through.
Use hear plugs
Without hearing protection, the roar of your engine and the traffic cars going by could result in significant hearing loss especially when you ride at high speed.
If wearing the right size helmet doesn't work, you should invest in a quality pair of hearing plugs. The noise that manages to leak through the helmet will be further deadened by the earplugs.
They are comfortable to wear and don't need a large helmet. However, the nature of your ride will be the ultimate convenience factor. Earplugs are suitable for long trips when you don't have many stopovers.
For a pizza delivery guy, using earplugs to block traffic noise may not be the best idea as you would have to take them off repeatedly.
Check your riding position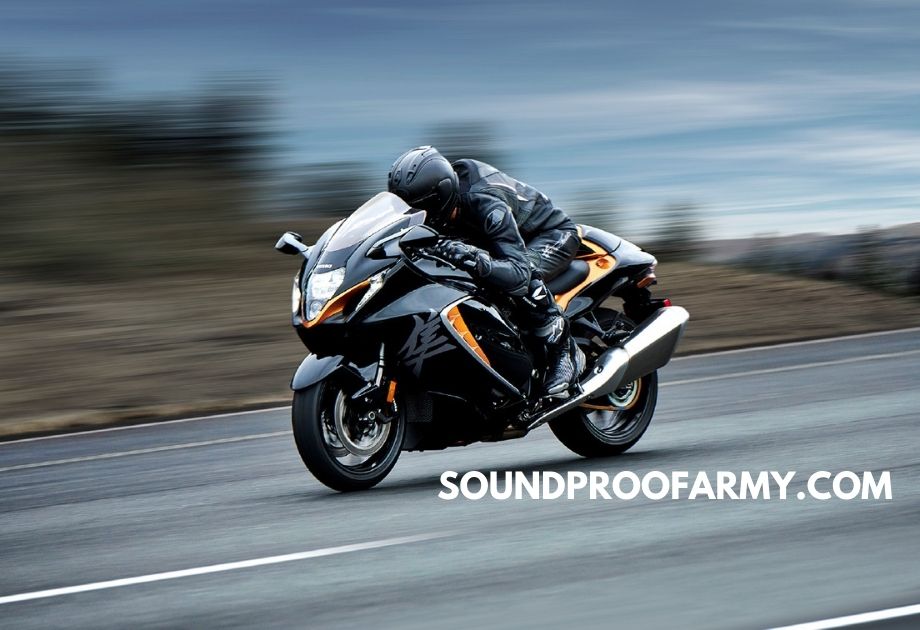 The first thing you have to do is check your riding position. Sounds like a no-brainer, right? But this is the most important step.
If you've got a sportbike or cruiser with swept-back bars and low handlebars, then there may be an issue of wind tunneling around the helmet (making it louder).
By positioning yourself on the bike, you can reduce wind resistance and thereby lessen the noise produced.
Wear a scarf under your helmet for noise protection
Wear a scarf under your helmet for noise protection as it will help absorb the sound from your helmet.
If you have a light-colored scarf, it will also help reflect away some of the noise coming off your bike and into your ears.
The sound waves can enter your helmet from below where there is an opening. Therefore the headscarf can be stretched down enough to create a solid shield.
This is one inexpensive way to make motorcycle helmets quieter without much effort or money on your part.
One of the recommended scarps is the Fleece Thermal Neck Warmer. This scarp will keep you warm on cold days and it's also useful in wintertime when riding a motorcycle or skiing. It's made of double-layer fabric that covers your whole face and neck.
Try a wind blocker to reduce noise when riding a motorbike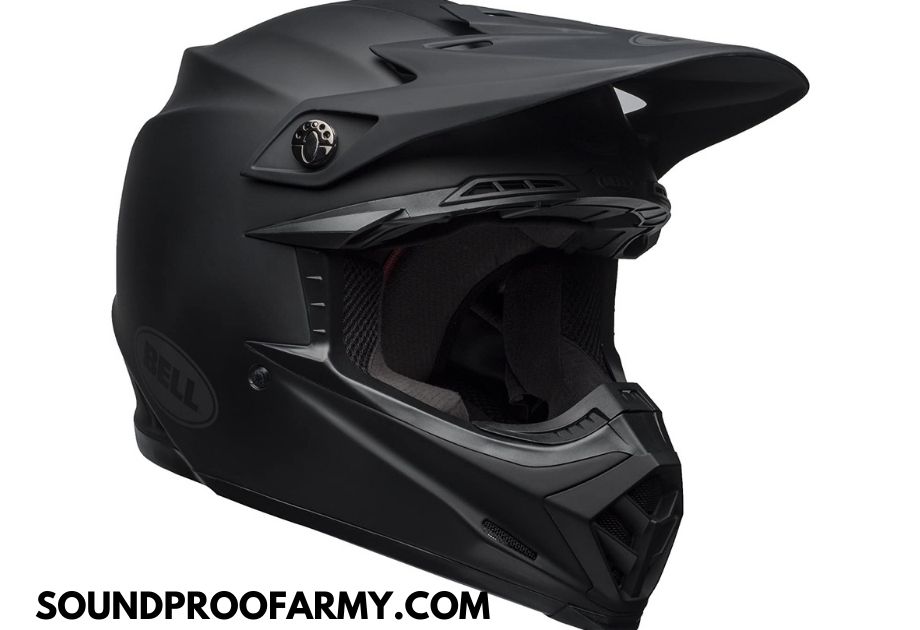 I would recommend using a wind blocker for your bike helmet. Wind blockers are designed specifically to reduce the howling of air through open vents in winter jackets and help keep you warmer as well!
They work by covering up those pesky little holes on either side of your head so that when it's cold out, no matter what kind of jacket you have, be it wool or fleece; this will also make sure that no snow gets into your neck.
Wind noise comes in through the neck of your helmet. You can block this by wearing a helmet with good padding on the neck. Luckily, most motorcycle helmets have padding to help stop wind noise.
Try a motorcycle face mask:
Do you have sensitive skin or trouble breathing when riding a motorcycle? A face mask is a perfect solution for it. But in addition to that, it can also block out most of the wind noises.
A facemask serves a similar purpose as a scarf. A motorcycle face mask will help block out most of the wind noises while you ride your bike in winter and summer alike.
It will not only keep your head warm but also serve multiple purposes such as blocking bugs from landing on top of you or debris flying towards you at high speeds.
Other benefits include protection from dust particles and ultraviolet rays when riding for long stretches during dusty days.
Invest in a quality face mask that is made lightweight and yet is durable enough to last for months if not years.
Ride with visor closed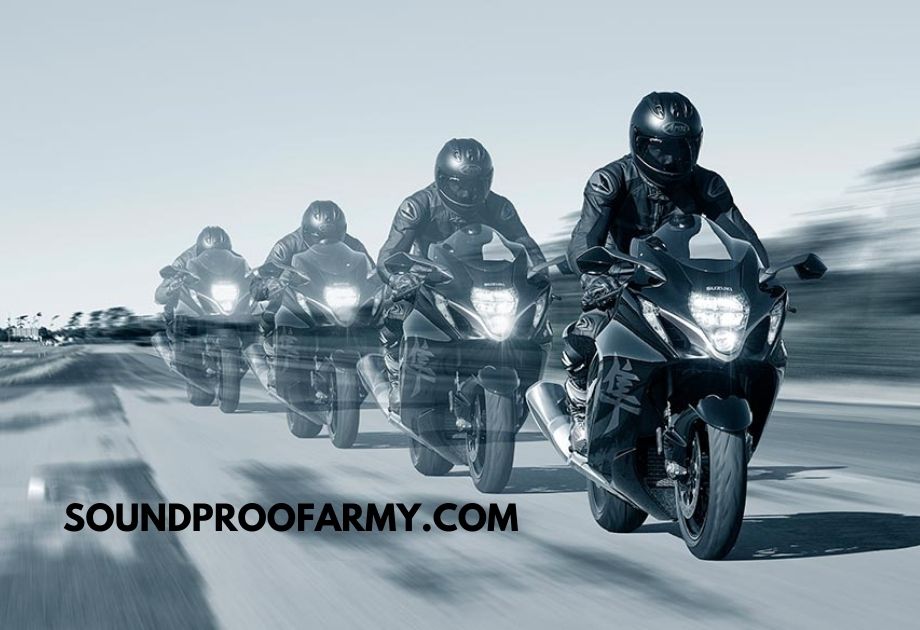 Riding with your visor closed will help you prevent the fast-moving wind from entering the helmet.
You should invest in a helmet that has a visor. ​A better option would be a closed helmet as it helps reduce most of the noise
Invest in a quiet motorcycle helmet
Investing in a soundproof helmet will help you skip all the hacks above.
There are many different brands and models out there, so it's worth taking some time to research which one might suit you best.
Arai helmets seem to be the most popular model for motorcyclists because their noise reduction technology can reduce wind noise by up to 40%. That means that conversations on your bike will be much easier than with other brands!
A good quality helmet should have some padding on the inside and a closed (or "molded") design so that there is no air resistance.
An essential characteristic of a safety helmet is a snug fit with properly placed and well-padded straps.
How do I get rid of the wind noise on my helmet?
We have shared with you quick soundproofing fixes to quiet your helmet. Let us repeat them again.
Invest in a helmet that fits correctly
Pay attention to the type of helmet, there are a few motorcycle helmets that are already conditioned for noise reduction.
Wear a wind blocker or ride with your visor
Protect your ears. Invest in memory foam ear pockets to block out unnecessary sound.
What is the quietest motorcycle helmet?
The Shoei-RF-1200 is one of the quietest helmets. It's so good that it's tested in a wind turbine tunnel with instruments to measure noise levels and simulate high-speed riding.
Alongside their other features, the helmet has versatile vents that can be closed for colder climates or opened for warmer climates in addition to being able to close them if they get dirty from bugs on a ride.
Its air intake vents reduce wind turbulence noise, and its snug-fitting structure minimizes unwanted noise. It's also an all-around great helmet with a lot of safety features if you're looking for the best bang for your buck.
How do you stop wind noise when riding a motorcycle?
There are a number of ways for riders to reduce the wind noise from motorcycles; both during their commute and while they're on long rides.
For starters, you can install specialized motorcycle windshields which will help. They come in different materials like Polycarbonate or Plexiglas in order to best meet your needs.
Alternatively, make sure you're wearing a full-face helmet and that your visor and shield are fitted properly.
In addition, you can tuck a scarf into the back of your shirt so that it's around your neck. If all else fails, try to ride slower. Speeding generates more wind resistance.
Final words On How to Make A Motorcycle Helmet Quieter
We have shared with you the most effective ways of making a motorcycle helmet quieter.
Though may not soundproof the helmet 100%, they will significantly reduce it to a bearable level.
Invest in a quality helmet that fits your head size, and try two or three hacks in combination to make it as quiet as possible.