All of us have experienced that one time when we were trying to sleep at night, while our neighbors are having a party. The music is so loud you can't even hear yourself, and all the noise sounds like it's coming right through your bedroom door. Do you want to know how to soundproof an apartment door?
12 Quick tips to Soundproof an apartment door
Use of Soundproof blanket
Use Green Glue to Seal all the gaps and cracks
Use self-adhesive Weather Strip Tape around the door frame
Using Door Sweeps
Using Door Gaskets
Use of a rug
Sound-absorbing Foam PanelsUse soundproofing Curtains
Use soundproofing Curtains
Use The Soundproof Paint
Rearrange The Room Furniture
Mass Loaded Vinyl (MLV)
Purchase a new solid core door
Well, I'm here to tell you about some quick fixes for soundproofing an apartment door that will help you get back on track with your work or school schedule tomorrow morning.
Here are some simple steps on how to soundproof an apartment door.
Quick Tips to Soundproof an Apartment Door
1- Use of Soundproof blanket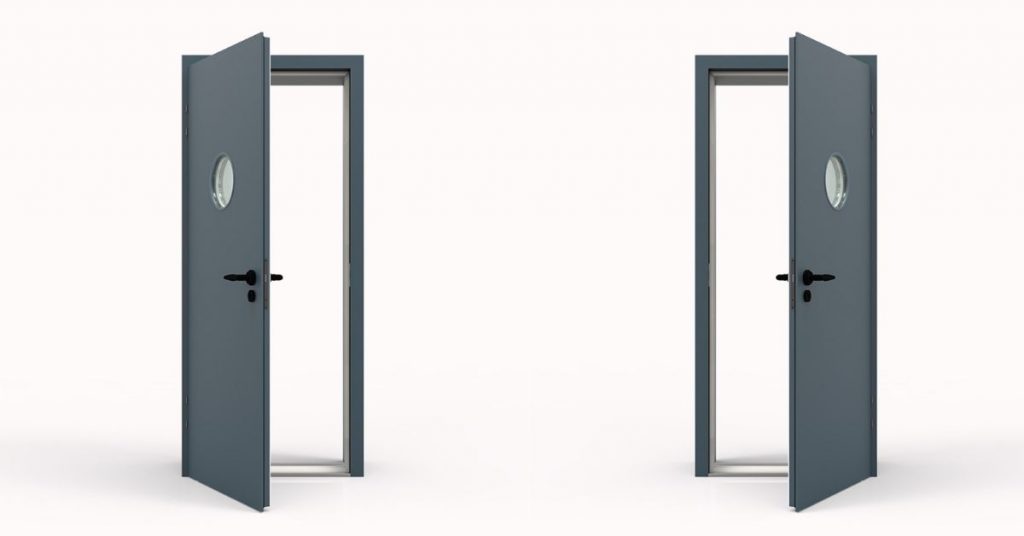 The best way to soundproof an apartment door is by using a sound blanket.
Always choose heavy blankets because they can absorb more noise than light ones.
First, they are inexpensive and easy to install on any type of door.
Second, it's designed in such a way that you can easily fit one over the existing door frame without having to cut anything off or modify the original structure at all.
And finally, usually, these blankets have clips so you can easily install them.
Tip: Add multiple layers of blankets for even better noise dissipation.
The whole process takes about 15 minutes per blanket which makes them very handy when you need things done fast!
It doesn't require structural changes throughout your building like many other methods do and therefore won't void your apartment lease agreement.
2- Use Green Glue to Seal all the gaps and cracks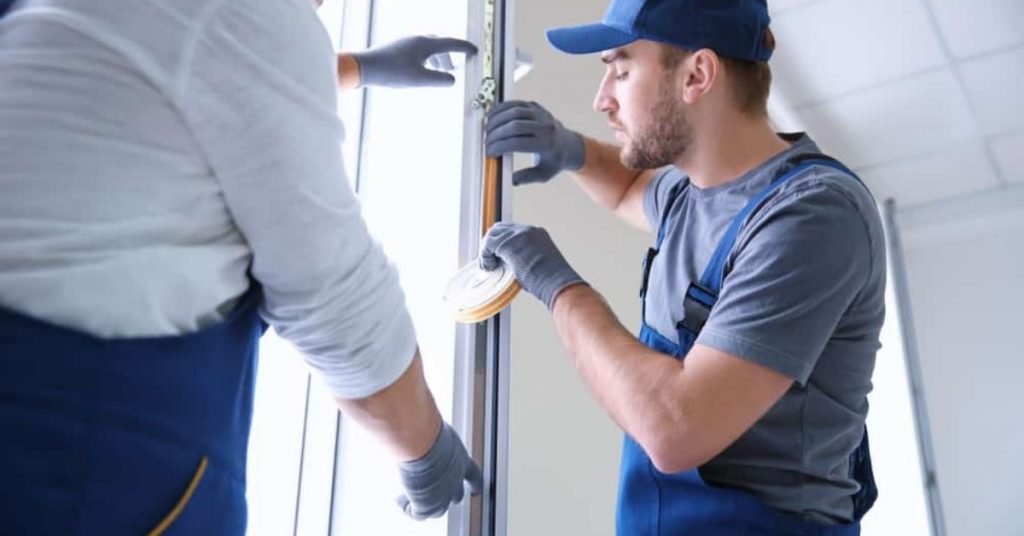 Cracks and gaps in the house or an apartment door are going to be one of the major contributors to noise leaking.
It is very affordable, and it requires less time to complete the task.
It can be hard to see where the gaps are in the room. The best time to find them is at night when there is no light and all the lights are off.
If the door has gaps, you can see light passing through them. Ask someone to hold a light on the other side of the door.
So, you can easily identify the gaps and cracks in the door and it's important that you find and seal them up before they can cause a problem in the future.
Use the best airtight sealants to cover these gaps and cracks.
Also, these sealants are paintable and you can choose the same color for your door.
When you apply, paint or stick these materials in the gaps and cracks of your door, they'll become soundproofed entirely against all noises coming from outside of your apartment.
For larger gaps, use a product called Great Stuff Big Gap Filler. You can use Red Devil Small Gap Foam to fill in smaller gaps.
3- Use self-adhesive Weather Strip Tape around the door frame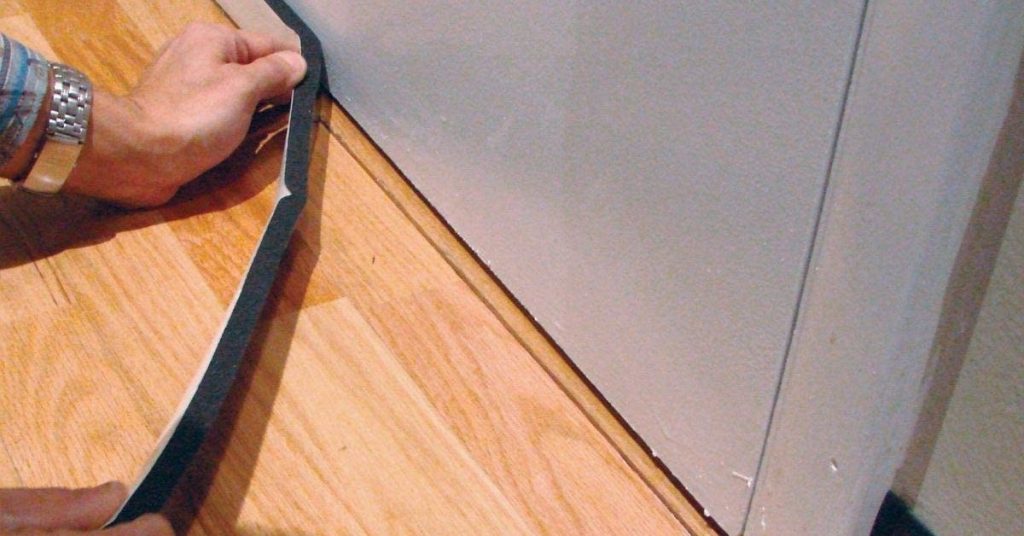 A lot of people don't know this, but one way to soundproof your apartment door is by using weatherstrip tape.
Weatherstripping tape works well to keep away dirt and dust, but it also keeps out unwanted noise!
The weatherstrip tape for soundproofing an apartment door is made with materials such as fiberglass that are good for absorbing noise.
The adhesive makes it easy to install on the top of the door.
You can use Duck Brand Self Adhesive Foam Weatherstrip Seal for Small gaps when installing the tape.
Make sure that you compress it well so that an airtight seal is formed between the door and the tape.
This self-adhesive tape will also help you to soundproof an apartment door from outside noise.
4- Using Door Sweeps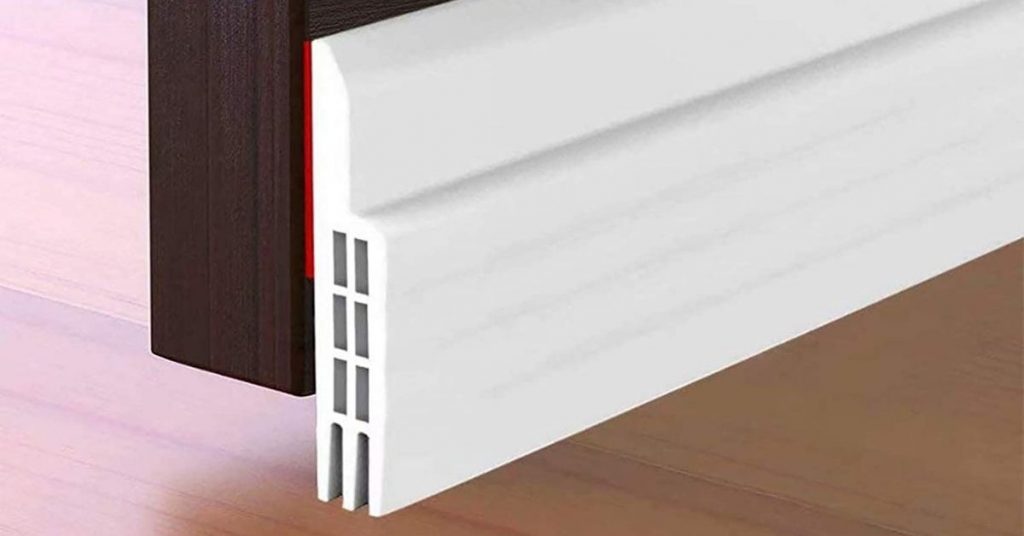 Using door sweeps is a common way of soundproofing an apartment and home door.
It is made of simple sound-deadening materials so your enjoyment of watching TV, listening to music, or reading a book will not be interrupted by outside noise with its help.
You can install the door sweeps quite easily. Follow these steps in order.
For this project, you need a drill, a hacksaw, a screwdriver, and measuring tape.
You will need to measure the width of your door with a tape measure. If it is less than 36 inches, you need to cut the door sweep with a hack saw.
Put the door sweep against your closed door. Put the vinyl seal on the threshold and then put the sweep over it. Mark where you want to make holes in your door with a pencil.
Next, drill small holes marked on your door. Put the door sweep in place with screws that are included.
Make sure there are no gaps between the door sweep and the door threshold.
Some people think that installing this might be pretty difficult but it actually shouldn't take more than an hour of installation. If you do everything right, as long as there are no complications encountered.
There is a great door sweep in Amazon. It is called the DB006 Commercial Grade Door Sweep.
You will have to drill a hole into the door and then screw in the sweep's fastener.
Apart from keeping noise away, a door sweep also keeps bugs out of your room. For example flies or ants.
5- Using Door Gaskets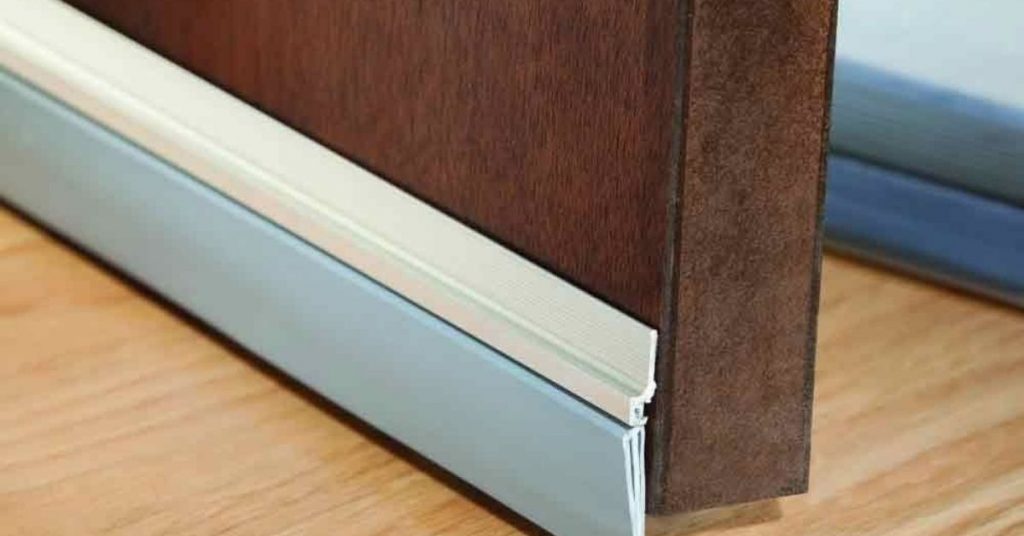 It is not a secret that noise coming from outside can sometimes be a problem in apartments.
Rather than soundproofing the entire apartment or the whole hallway, one of the most effective ways to reduce noise is to soundproof just around your apartment door.
A door gasket provides an affordable and easy-to-install solution for keeping your neighbors happy!
Door Gaskets are the same as weather striping tapes. It can be used to seal the gap between two surfaces and is usually applied around the door frame.
It blocks noise and light. And it keeps moisture away.
6- Use of a rug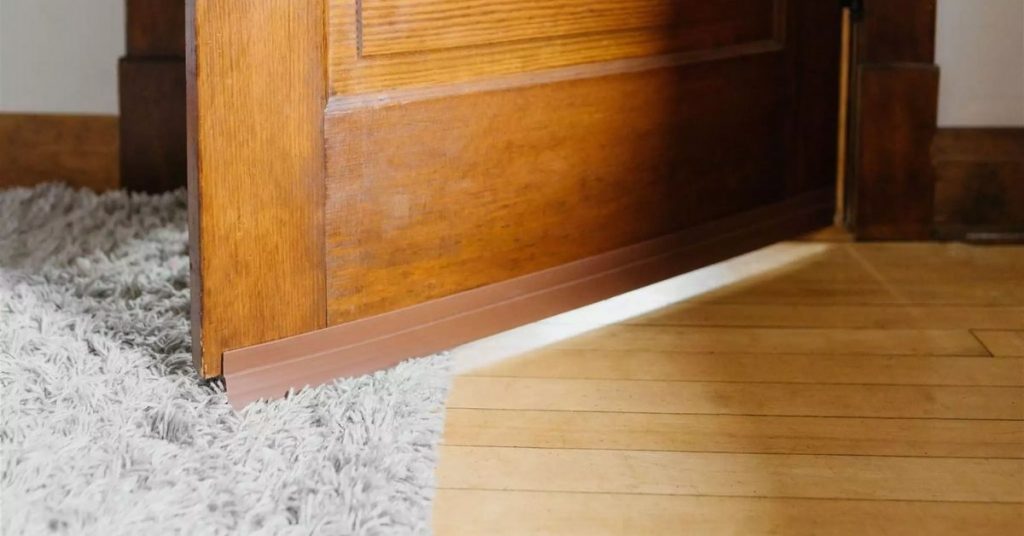 Rugs can be used to make apartments quieter. They can be both a soothing decoration and a sound blocker.
Using thick rugs is better because it will help to dampen the sound and stop it from echoing.
If the sounds are too loud or if you don't like them, put rugs on both sides of your door for better results.
The Safavieh Hudson Shag Collection offers an extra thick layer of polypropylene fibers to make it sturdy and durable while also providing the ultimate luxurious feel.
The best thing about a rug is that there is no installation. You just need to buy a rug and put it where you want.
7- Sound-absorbing Foam Panels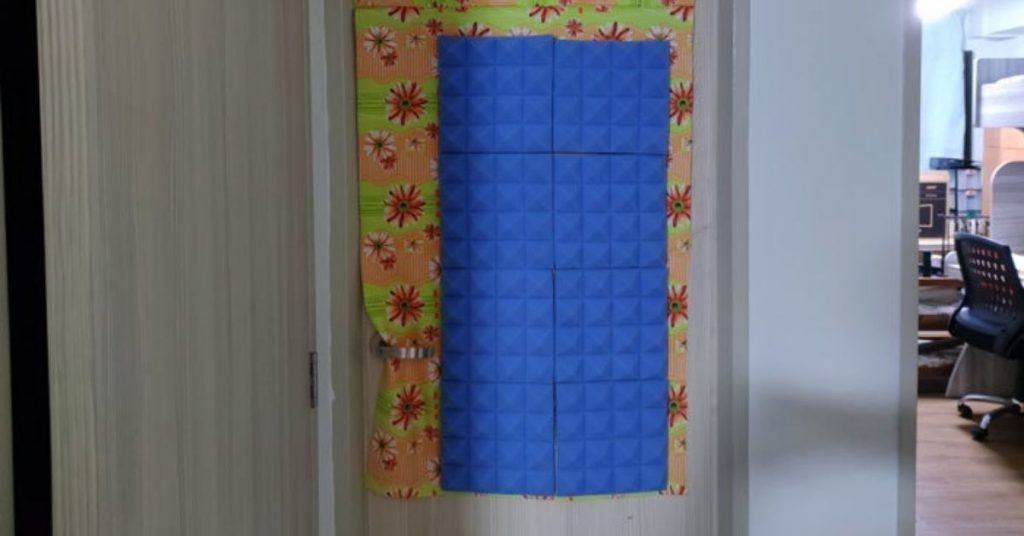 Sound absorbing foam panels are the perfect solution for those who can't afford to use fiberglass.
Foam panels are an easy and inexpensive way to absorb sound waves.
They come in different shapes, colors, and sizes so you're sure to find one that matches your mood!
Installation is easy as hanging them on any door just like a blanket might be done with command strips if nails could damage it.
As an added bonus they can help strengthen acoustic insulation as well because their softness means less rattling sounds against one another when installed properly around doors.
8- Use soundproofing Curtains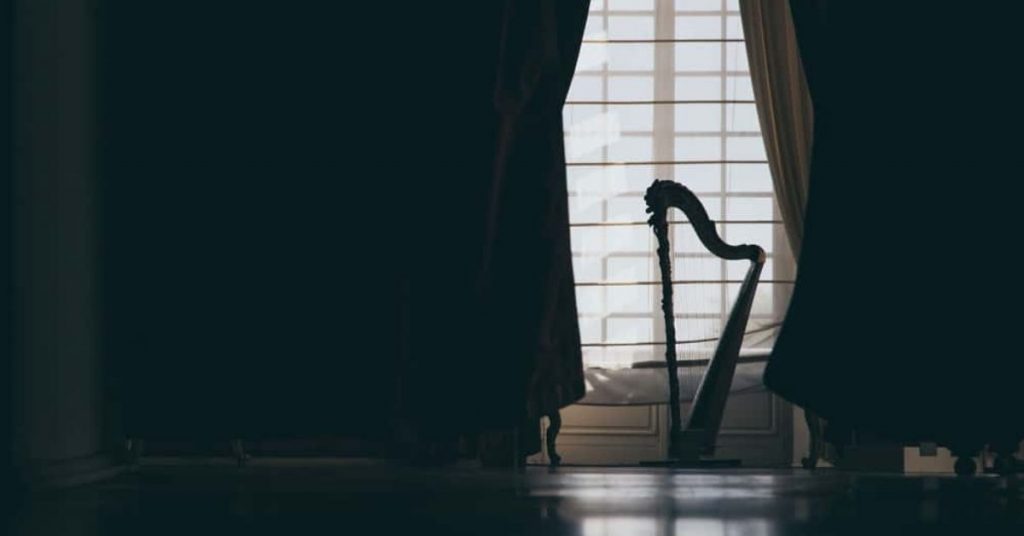 Do you know what is the secret to soundproofing a door? Curtains.
They are made of thick material that deadens sounds, and installation involves installing curtains just above your doorway frame (don't worry–it's not hard).
Once installed, these fabric panels block both lights as well as noise from entering through your doors.
The installation process is not too complicated but may take some time.
Just make sure you measure correctly before buying!
There is an array of different styles available in stores so finding one perfect for you should be easy enough; get creative with colors or designs if needed as well!
If you're tired of having people gabbing loudly next door so it feels like they're right there talking over coffee at home then don't hesitate!
Get some good acoustic curtains for yourself to create perfect peace and quiet."
9- Use The Soundproof Paint
The soundproof paint can be applied to the door for better apartment soundproofing, however, it should be used with other fixes to enhance effectiveness.
It is water-based, so it can be easily removed after its use. Plus, it has an increased thickness and density to reduce mild noise.
You should select soundproof paint with a low or modest amount of viscosity in order to create stronger sound insulation.
It also makes it easier for the owner to apply it on the surface thoroughly without drooping or running off onto other surfaces.
For better results, you should apply several coats both on the inside and outside the door.
10- Rearrange The Room Furniture
The most economical way to soundproof a room is to cover the flat surfaces with thick blankets or other heavy materials (furniture).
This will cut off reflections and effectively dampen the sound.
Moving furniture around will help by absorbing some of the vibrations. For better results, cover as many flat walls as possible, and fill the furniture with as much furniture as possible.
11- Mass Loaded Vinyl (MLV)
Mass-loaded vinyl is one of the best sound deadening products since it eliminates and blocks any noise from coming through.
Installation is easy- just buy a size that fits your door, attach them to each other with some adhesive tape or screws depending on what you prefer, then enjoy!
If cost isn't an issue for you have more than one layer will provide maximum effect.
12- Purchase a new solid core door
Invest in soundproofing by getting a solid core door. They are not as expensive and you will notice the difference after purchasing them.
Hollow doors resonate with sounds, while thicker ones dampen them instead of amplifying or echoing noise outside your home to where others can hear what is going on inside.
If you have enough capital for investments like this one, then go ahead and get yourself a sturdy door made out of acoustically designed material that should keep any unwanted noises from leaking into other people's homes – especially since they need some skills to install properly!
How to soundproof apartment doors cheaply?
Well, you can always replace a hollow door with a solid core door, or with a premium soundproof door. But these fixes are expensive and being a tenant you might not be allowed to do so. Below are some soundproofing methods that you can apply to the door but keep in mind they would be temporary.
1- Use soundproofing curtains
2- Using a door casket
3- Apply green glue on cracks and holes
4- Use a weatherstripping kit around the door frame
Finals Words
This article has provided you with some helpful tips on how to create an atmosphere where it is easier for you to relax, sleep better, or study in peace.
You have the opportunity to make your apartment more comfortable with a simple and effective soundproofing technique.
I hope that you've found this article to be informative and helpful.
If you're looking for more information on how to soundproof an apartment door, we have a couple of other articles below.