Do you want to know how to soundproof an apartment floor? You are at the right place. It can be incredibly frustrating to live in a noisy apartment. Soundproofing an apartment floor is a simple and easy way to keep the noise out of your life.
Quick tips to soundproof an apartment are;
Use interlocking floor mats for noise reduction
Using Acoustic Floor Underlayment
Use Mass Loaded Vinyl (MLV)
Use Carpet Padding for soundproofing an apartment floor
Use Soundproofing Compounds to prevent airborne noise from leaking
This article will show you how simple soundproofing your apartment floor can be with just a few steps. Sounds great, doesn't it?
5 Different Ways to soundproof an apartment floor
1- Use interlocking floor mats for noise reduction
One of the easiest and most cost-effective ways to soundproof the apartment floor is by using interlocking floor mats. Rubber floor mats are the most common type used for this purpose as they are an excellent sound barrier.
These sound dampening foam mats are cut to size and can be used in a variety of ways.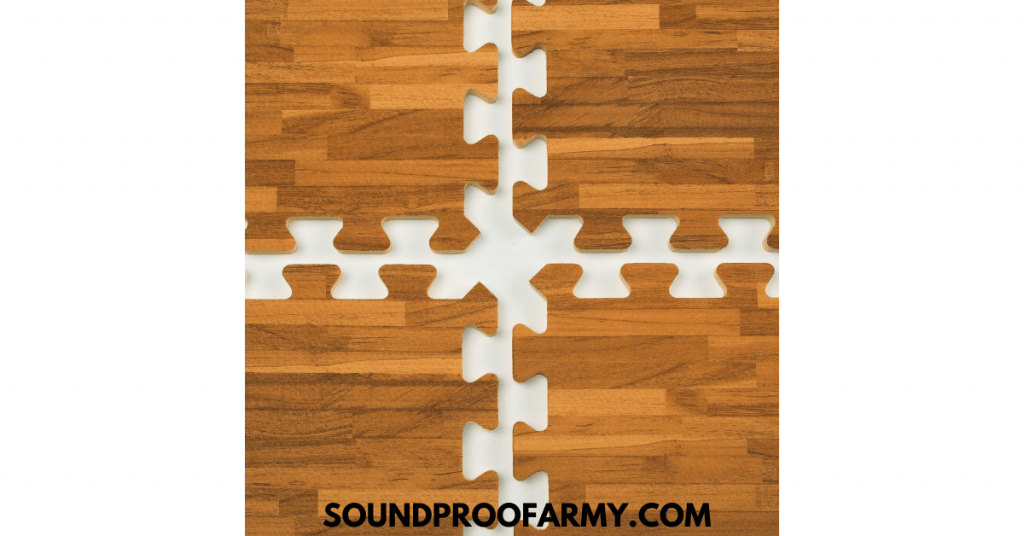 A soundproof floor mat will act as a seal around the perimeter of your apartment. It will prevent sound from entering or exiting.
These interlocking floor mats are suitable for minimizing sound transfer between rooms.
Interlocking floor mats are available in various designs and textures. Their edges are designed in such a way that they easily connect to each other. You can use green glue to lock the edges together.
Interlocking floor mats are also easy to clean and safe because they are made from antibacterial materials.
Laminate floors are often used in apartments because they're affordable and easy to install (although it does require some DIY know-how).
You can also purchase acoustic tiles for less than $200 that come already laid out on cardboard with instructions. So you don't have to worry about any installation mishaps.
Sound dampening material is available in rolls and sheets but may be hard to find locally. So check online first before ordering anything over $100 worth of materials.
Your local home improvement store should be able to order what you need for free if not in stock.2-
2- Using Acoustic Floor Underlayment
If you want to soundproof your apartment floor, use a product called acoustic floor underlayment. This DIY technique will help you to soundproof your condo floor in a cheaper and easier way.
– This process will involve you laying down a layer of acoustic floor underlayment, which is typically made with materials like cork or rubber.
This material can help absorb sound waves that are passing through the apartment and therefore reduce noise coming from outside your home.
– You should measure out enough to cover the entire living space in order to get as much coverage as possible
*TIP: If there's an incline near any walls it may be necessary for you to increase this measurement by half.*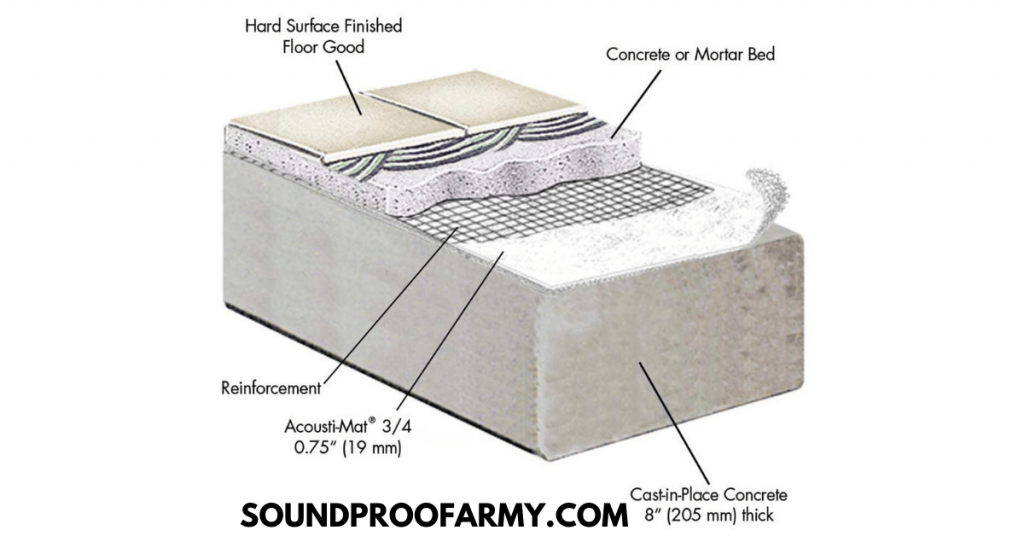 Once you have laid down this first layer of acoustic underlayment, add another level on top of it and repeat until all areas are covered.
If you are making this a DIY project, you will need to purchase the material in sheets and then cut it down into smaller sections that are easier for you to handle.
– The next step is going to involve applying a layer of soundproofing sealant on top, which can be done using either an adhesive or acrylic paint.
The goal here is simply to make sure there are no gaps between the layers of acoustic floor underlayment so that they stay put together nicely.
*TIP: You may want to use a primer first before painting.*
It can take up to 24 hours for this process alone (without any humidity) and if you're not patient enough about waiting, adding some polyurethane over the top should help as well with stopping noise.
3- Use Mass Loaded Vinyl (MLV)
The apartment floor makes noise. Install Mass Loaded Vinyl (Soundproof Material) on the Floor to make it quieter. It is a thick and heavy material that has the ability to absorb both impact and airborne sound.
MVL is good for stopping sound vibrations from traveling through the floor.
MLV is a common and effective way to soundproof an apartment floor, especially if you want to reduce noise coming in or out of your home or apartment.
Sound-absorbing materials are great for soundproofing because they can literally soak up the vibrations that would otherwise be transferred into your living space.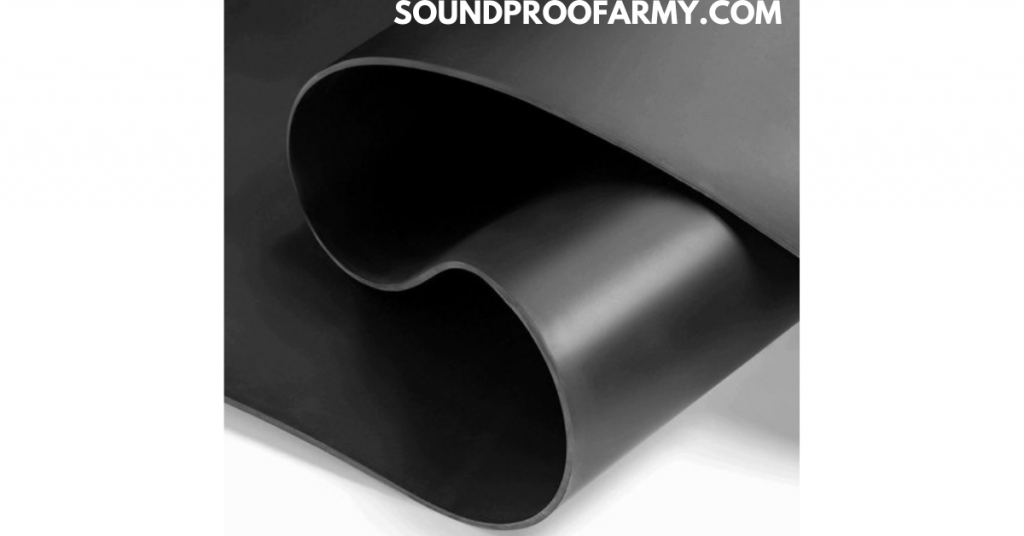 In order for MLV (Mass loaded vinyl) to work properly, it needs to be installed correctly on your floor.
MVL (Mass loaded vinyl) is a material that you can put under the carpet in your house or apartment. It is commonly used.
You need to lay the underlayment down first. Then put a layer of rubber floor mat on top before installing your flooring to enhance its effectiveness.
Rubber provides a buffer so that sound doesn't go into your space. Also, you can put a dense carpet on top of it.
Carpets and rubber will make the sound deadening properties stronger.
After installation, make sure there are no loose pieces because these will let noise through even after everything else has been done!
4- Use Carpet Padding for soundproofing an apartment floor
I want to soundproof my apartment floor. What can I do?
You can try using carpet padding.
Carpet padding is a great way to soundproof your apartment floor.
It's important to make sure that the carpet padding you buy is made specifically for sound absorption.
You can put it right on top of the existing carpeting or even use it as an underlayment if there are gaps between boards in the hardwood floors underneath.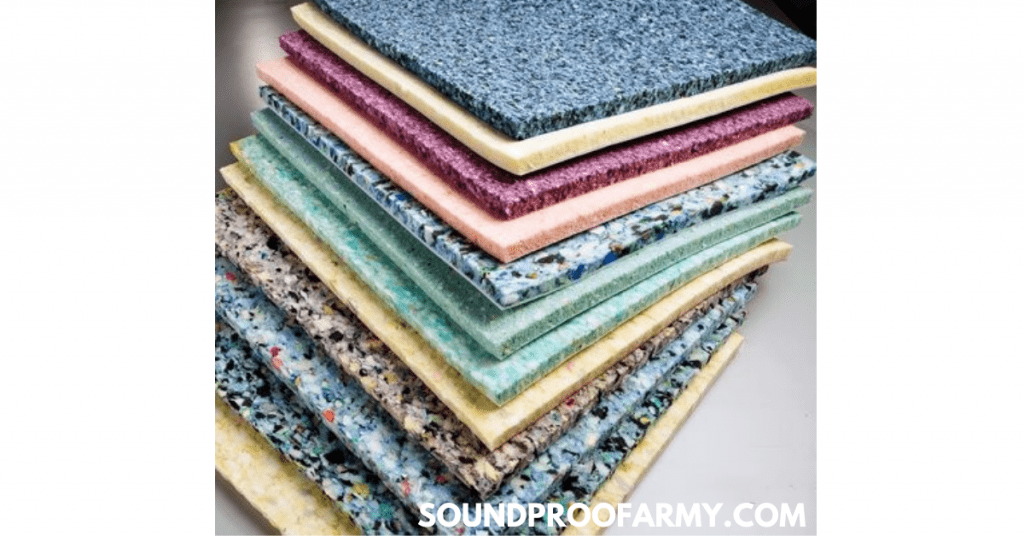 Carpet padding does not take up much space and will help keep out unwanted noise from downstairs neighbors and more!
The thicker the carpet padding, the better it is at absorbing and reducing noise.
For purchasing the right size carpets for your apartment floor you have to measure how many yards of material are needed by measuring along each wall and subtracting enough for seams and doors (e.g., if there's a door at one end of the room).
Add about 12 inches per seam allowance, then add another two feet more than what you measured out for extra.
To install carpet padding, put it on the floor. You need to ensure that the carpet reaches the edges of your apartment floor. Then you can cut it at the edge and use nails or glue to keep it in place.
It is also a good idea to use felt pads on any furniture legs that will be touching the new carpeting. This will prevent scratches and stop the sound from transferring onto your floors.
One of the best carpet paddings to use is the Premium Grip Rug Pad. The company delivers thick rugs that are durable and also slip-resistant, unlike another carpet padding.
5- Use Soundproofing Compounds to prevent airborne noise from leaking
If you want to soundproof your apartment floor, and don't want to lay down carpet, then soundproofing compounds are for you.
Soundproofing compounds such as Green Glue are good for reducing noise between surfaces. You can apply green glue to fill fissures and cracks on doors, windows, and apartment floors.
Most soundproofing compounds are made of polyester, recycled rubber, or a combination of the two materials.
Do not apply sound-dampening products directly onto any open grouting lines on your floor. This can trap moisture and lead to mold growth.
You also need to make sure you do not use too much compound because it will create an uneven surface when dry which will reduce acoustical effectiveness.
The best way is to apply layer upon layer after waiting for each one to dry completely before applying another coat.
To speed up this process, some people choose to put their foot down while spreading out the material so that fewer layers are needed
Final Words
Soundproofing an apartment floor is a great way to keep the noise out of your life. It's perfect for those who want some peace and quiet in their space.
Note: We didn't discuss any method that involves any kind of structural changes as being not allowed by law as a tenant you are not legally able to do so at this point in time due to laws protecting landlords from having tenants change things on them without permission or compensation such as modifications that could lead to future damage (such as adding insulation) where they have no obligation anyways under contract with the landlord but there may be other options available if willing to defer the cost.
FAQ: Soundproofing floors cheap DIY Techniques
How do you soundproof an existing floor?
To soundproof an existing floor you would have to take care of both impact and airborne noise.
Impact noise also known as structural-borne noise can be deadened by adding weight to the existing floor or by using a soundproof floor mat. Whereas, airborne noise can be reduced by filling gaps and cracks on the apartment floors.
How can I soundproof my floors cheaply?
To a soundproof apartment, the floor doesn't involve rocket science given you are ready to get your hands dirty. Rather than wasting money on soundproof floors, you can apply several hacks on existing floors that we have discussed in this blog post.